this assignment was pretty straight-forward, and i didn't have to edit any photos! giphy? much more user-friendly than gimp! the goal of this assignment was to make a gif out of something pop culture. I decided to do this one because what better way to incorporate our theme of 80s pop culture than with a gif! I decided to gif a music video, so I did some basic research and came across this article, which detailed some of the best 80s music videos. Although I wasn't born in the 80s, the song "Girls Just Wanna Have Fun" was a huge part of my childhood, so I watched that one (because I had never actually seen the music video).
I immediately decided I wanted to gif Cyndi bopping along the street dancing, because mood. And its just really iconic, and seems like something that would be meme-d if it came out in today. So as well as being an iconic 80s song, its also now an iconic reaction/personality gif! ur welcome.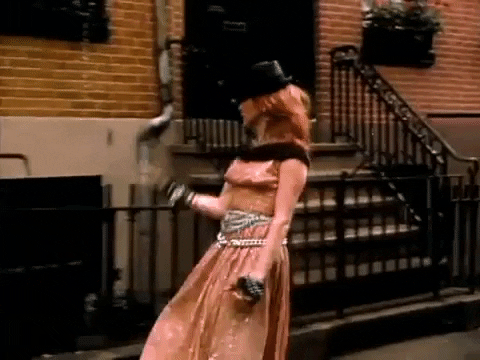 The process for this assignment was pretty straightforward. Research some iconic 80's music videos, watch some iconic 80's music videos (I also considered Thriller, Walk this Way, and Take on Me). Once I decided on my video and gif segment, I logged onto Giphy & put in the link to the music video for Giphy to find. Once they found the video, I used two different sliders to format the gif, one to determine the length (2.7 seconds) and one to determine the start time.
Like I said earlier, I chose Girls Just Wanna Have Fun" because it is an iconic 80's song, and a Little Bit nostalgic for me. Additionally, the segment of her walking along is just big vibes and I love it! Also, her style as she going along feels like an accurate, not Extreme-ized representation of 80's fashion, which is Cool.
have fun out there! -liz